We provide lifestyle and wellness solutions that enhance the lives of people everywhere. We seek to contribute towards the needs of less privileged communities through our work
We improve, empower and transform lives through innovative solutions born of smart knowledge application and creative design.
The Craftmark Group was established in 1981 as a purveyor of quality leather bags, leather wallets and other leather accessories. Over the years, we have been involved in building and growing brands, as well as marketing and managing their distribution in Singapore and Southeast Asia. Some of the lifestyle fashion brands to which Craftmark holds exclusive distribution rights are Picard from Germany, Shilton from London and FX Creations from Hong Kong. In 2007, we also created our own home grown brand, Tessere, which focuses on the concept of weaves as an expression of the interwoven nature of life.
Also in 2007, we expanded into the wellness area with our specialised retail concept where function meets style. Arch Angel Shoes, a unique footwear and foot care retail brand concept where comfortable yet stylish shoes and footcare accessories are specially curated to meet the foot health and wellness needs of people, was born.
In Singapore, Craftmark's portfolio of brands can be found online as well as across 35 retail outlets ranging from leading department stores such as Takashimaya, Robinsons and Isetan, to standalone boutiques stores.
1981
Craftmark (S) Pte Ltd incorporated
1982 - 1990
Established retail counters in all the major Department Stores
1991 - 2000
Developed regional markets - Malaysia, Indonesia and Sri Lanka
2002
Transitioned from Agents to Licensee of brands
2007
Craftcare Pte Ltd incorporated and first Arch Angel shop opened
2012
Arch Angel shops opened in Purvis Street and Wheelock Place
2013
Craftmark products available online
2014
Awarded the Singapore Service Class
2016
Awarded A*Star/SIMTech's Productivity Partner Recognition Award
2016
Picard webstore launched
Core Values
Excellence
We seek excellence through teamwork, execution, perseverance, openness, and ownership
We insist on excellence and hold ourselves to relentlessly high standards
We embrace lifelong learning and growth in our quest for excellence
We are passionate about our work and strive to be world class
We seek continuous improvement
Innovation
We constantly innovate, invent and iterate, and always find ways to simplify things
We are resourceful and always try to do more with less
We believe there is always a better way to do things
Integrity
We ensure that our business practices and decisions are morally and ethically sound
We believe in honesty and doing the ethically and morally right thing always
Customer Centricity
We are obsessively customer-centric and work hard to earn and keep customer trust
We always begin with the customer in mind and work backward
CORPORATE SOCIAL RESPONSIBILITY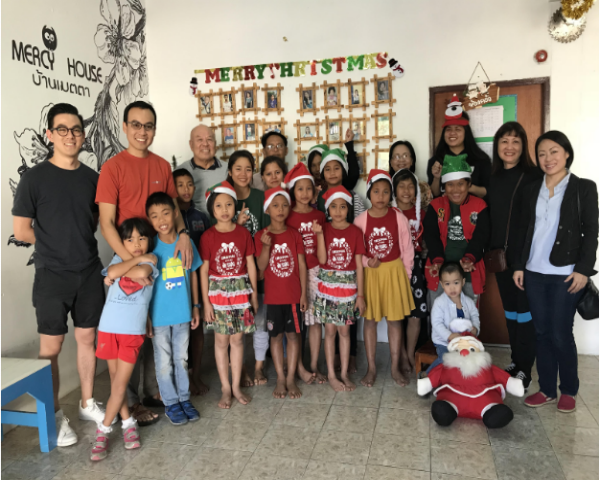 Understanding Needs
On 20 December 2017, our Managing Director and Director, Tan Ee Leng and Adelene Tan, visited the Mercy House Orphanage just outside of Hua Hin, Thailand. Supplies of daily necessities and food stuff were donated to the orphanage, and time was spent getting to know the orphans and their needs better. Going forward, Craftmark plans to explore opportunities for future support.
Shoe Donation to the Orphans in the Philippines
Precious Heritage is a non-profit charitable organization in the Philippines that provides residential-based and community-based programs for the orphaned, abandoned and underprivileged children. In 2016, The Craftmark Group partnered with Givano Footwear International to provide shoes for children in poverty. 36 children at Precious Heritage received a new pair of school shoes to complete their school uniform and protect their feet from injuries and foot diseases.
Dignity Kitchen
Dignity Kitchen is Singapore's first hawker training school for disabled and disadvantaged people. As part of our efforts to build and restore dignity to the disabled and disadvantaged community in Singapore, The Craftmark Group organised a staff visit to Dignity Kitchen in 2014. Through games and meaningful interactions, our team learnt to appreciate that disability can be an ability and dignity is every individual's right.
Bethany Methodist Nursing Home > Community Partnership (Corporate Award)
In 2013, The Craftmark Group was presented the Community Partnership (Corporate) Award by Bethany Methodist Nursing Home, a home for the elderly who are destitute, from very low income families and have no alternative home care arrangements.